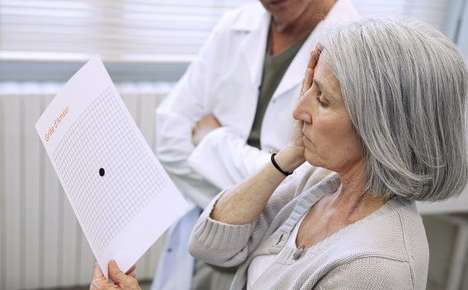 One of the leading causes of vision loss in people who are age 50 or older is age-related macular degeneration (AMD). This common eye condition leads to damage of a small spot near the center of the retina called the macula. The macula provides us with the ability to clearly see objects that are straight ahead.
AMD may progress very slowly, with vision loss taking a long time to occur. In some people, though, the disease may advance more quickly. It can affect one or both eyes. Some treatment options are available for later stages of AMD.
Symptoms of Age-Related Macular Degeneration
One of the first symptoms of AMD is a blurry area in the center of your field of vision. Over time, this blurred region may increase in size. You may also develop blank spots near the center of your vision. In addition, objects may not be as bright as they once were.
AMD does not lead to complete loss of vision. However, the central vision that is affected by AMD is needed for many everyday activities, such as being able to read, write, recognize faces of other people, drive a car, cook or fix things around the house.
Risk Factors for Age-Related Macular Degeneration
One of the main risk factors for AMD is being over 60 years old; although, this condition can happen in younger people. Other risk factors for AMD include:
Smoking. Smoking tobacco can double your risk of suffering from AMD.
Race. Caucasians are more at risk of AMD than Hispanics/Latinos or African-Americans.
Family history. If someone else in your family had AMD, you are at greater risk of developing it.
Genetics. Almost 20 genes have been linked to an increased risk of AMD.
Certain healthy lifestyle choices may slow the progression of AMD or reduce your risk of developing it, including:
Not smoking
Eating a well-rounded diet that includes a lot of fish and green, leafy vegetables
Keeping your blood pressure and cholesterol at normal levels
Doing regular physical activity
Treatments for Age-Related Macular Degeneration
There is no treatment for AMD during the early stages. Many people have no symptoms at this point. If you have early AMD, your eye doctor may suggest a yearly — or more frequent— eye exam to see if your disease is getting worse.
For intermediate- and late-stage AMD, some research has found that high doses of certain vitamins and minerals may slow the advance of this disease. This includes vitamins C and E, zinc, copper and beta-carotene (and perhaps lutein and zeaxanthin).
These will not help you if you have early-stage AMD. They may, though, slow vision loss in the later stages. To find out if nutritional supplements are right for you, check with your ophthalmologist.